ATTENTION: Small Business Owners!
Do You Wish You
Had MORE Leads?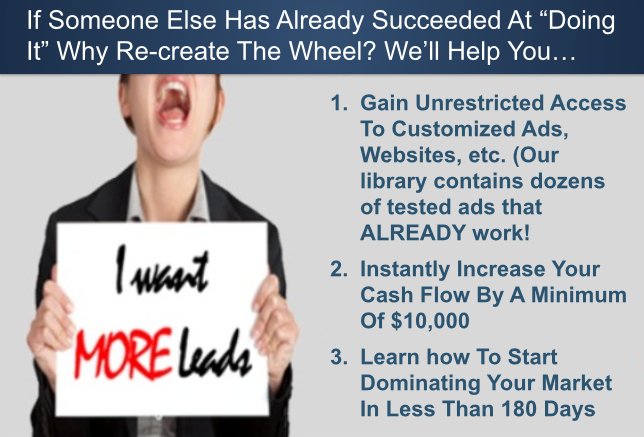 The Fact Is: Most businesses (95%) fail within their first five years, and of the rest, most will never achieve the results they were looking for…Ever!
Why? Marketing.
When I talk with small business owners about marketing, overwhelmingly, the first response I get is: I can't afford to market. It's to expensive.
Now I'm no fool, I know some of these are just veiled attempts to get me out the door because they see me as a salesman. But, the one's that are serious, truly bother me.
Marketing and advertising is supposed to make you money, and if it isn't, it's time to Kill That Campaign!
The truth of the matter is this: Marketing and/or advertising doesn't have to be expensive to be successful.
If you:
Have a business that provides an ethical product or service to your customers
Are tired of wasting money on marketing campaigns that are not making you money
Want to start generating tons of leads
Want to reduce advertising costs while increasing leads and sales
Increase your prices and still outsell your competitors
Here's what you need to do right now:
Click Here – To get a complimentary Marketing Optimization Analysis
First: You'll fill out a form with some contact information
Second: I'll contact you to schedule your Free analysis
Third: We'll perform a very non-intrusive analysis of your current marketing situation
Fourth: We'll report to you our findings and give you any recommended changes to start bringing in paying customers and making you money
Now, you can choose to implement these changes yourself or allow us to help you. (No pushy sales person will try to coerce you into anything!)
If you choose to allow us to help you, we'll implement a customized strategy based on our proven to make you money methods.
And, you'll be covered by our hyper generous No-Risk Guarantee – Either You Get New Leads Or 100! Of Your Money Back! This kind of guarantee isn't found anywhere else in the marketing industry.
The best part is: You get a money making marketing method that you own and can implement anytime you choose. Whether you're a one person operation or have 30 employees working for you. Our strategies work. Sales people will love you for arming them with the ability to generate leads easily. And, you'll love the increase in profits.
If you're ready to work with a professional that gets rid of all the fluff and hype and focuses on your business' return on investment (ROI). Get your complimentary Advertising Optimization Analysis now, just Click Here
To your success,


David Hawke